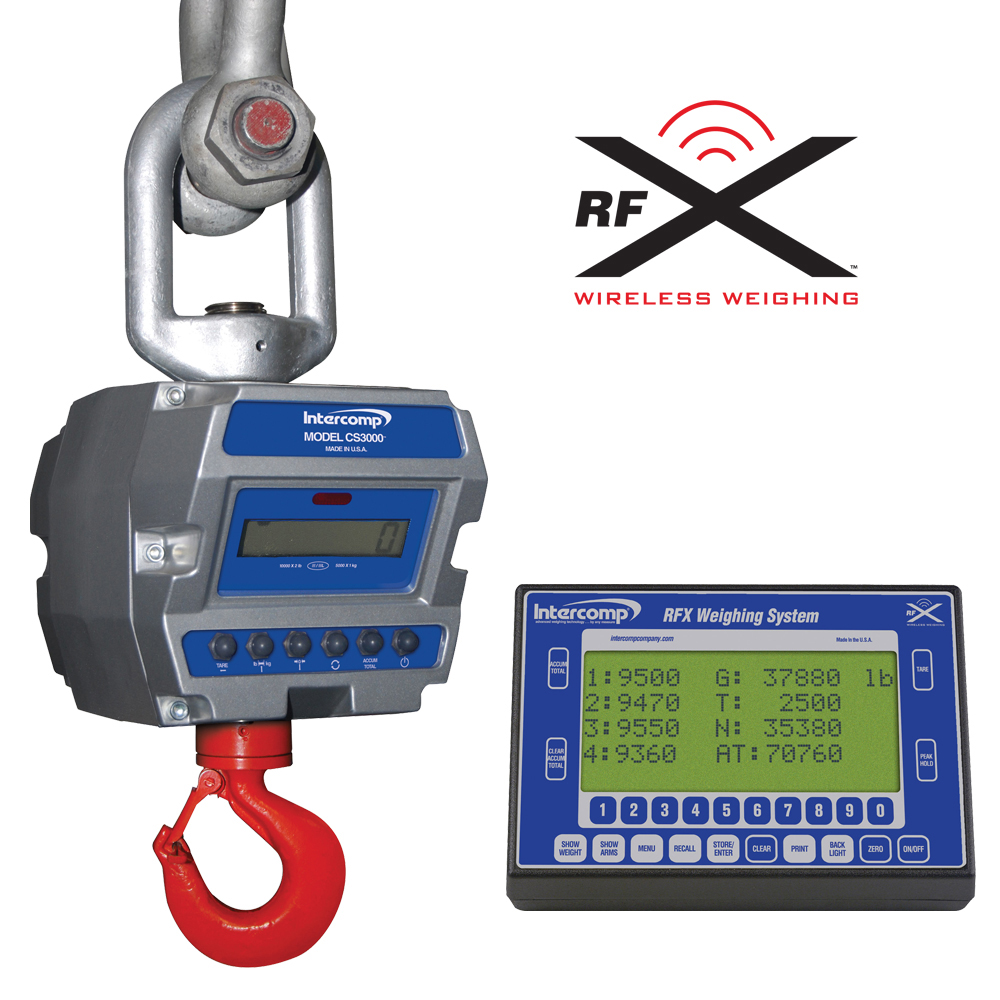 Intercomp - CS3000 RFX Wireless Crane Scales
Capacity:
15000kg / 30000lb
Readability:
5.kg / 10.lb
Features
- Indicator Controls & Shows Weights of up to Six Scales Simultaneously
- NTEP Certified 97-135A4
- Large, Easy-to-Read 1˝ LCD Display on Scale
- Standard S1 Swivel Hook
- Shocked Mounted Weather Proof Case
Description
The CS3000™ Crane Scale features Fully Integrated RFX™ Wireless Weighing Technology and comes standard with Intercomp's Handheld RFX™ Wireless Weighing Indicator which controls scale functions at safe distances, improving any operation.



Available in capacities ranging from 2,000lb (1,000kg) to 100,000lb (50,000kg). The Ultra high-resolution, A/D conversion delivers unsurpassed accuracy and digital keypad setup and calibration enhance the ease of operation. All crane unit electronics are shock-mounted in a weatherproof case and provide maximum protection against moisture, dust and rough usage. Standard, commercially available, alkaline batteries last up to 3,000 hours in the scale, minimizing down time due to battery charging or replacement.
Accessories
| Part Number | Description |
| --- | --- |
| 101225-D | CS3000RFX Less Indicator |
| 100671 | Foundry Package, Anti-Heat |
| 100861 | RS232 Data on Crane Head |
| 330112-CS | Battery, NiCad 2 x 4 "D" Size |
| 100858 | Charger, External |
Publicly Available Documents