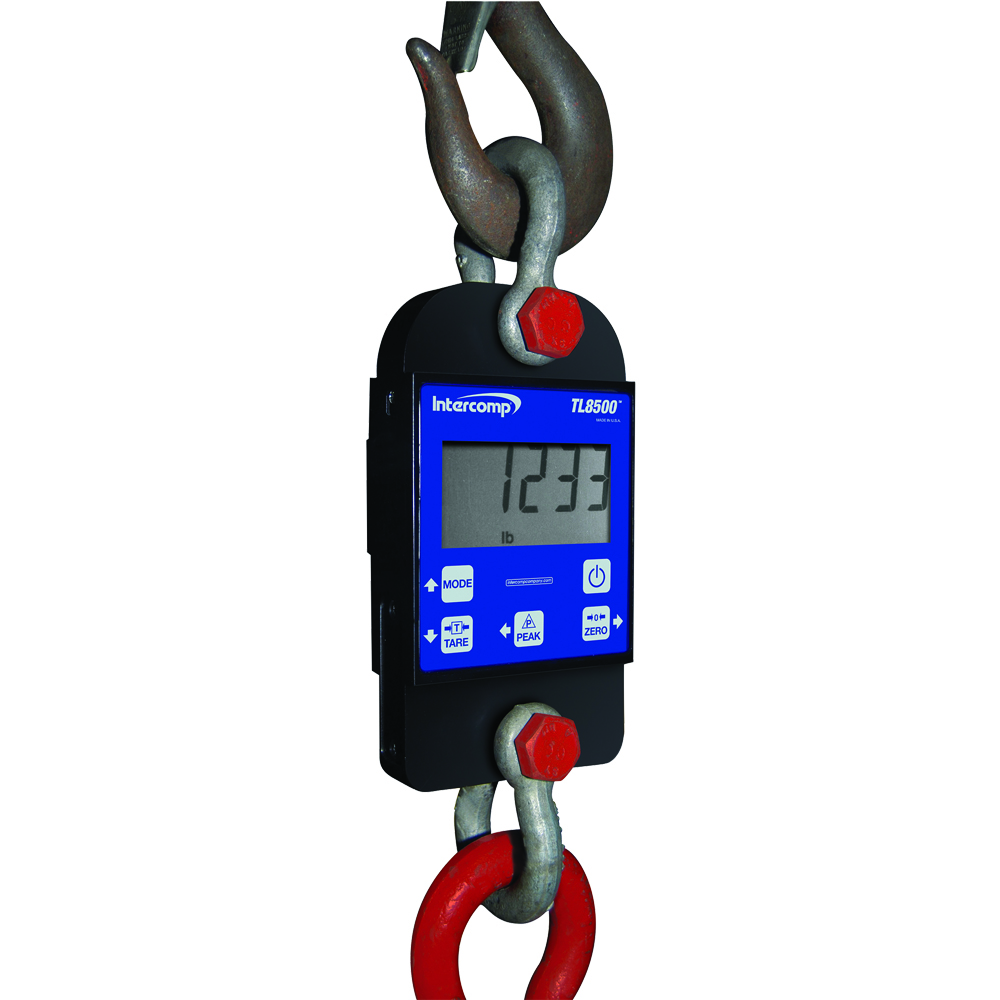 Intercomp - TL8500 Tension Link
Readability:
0.5kg / 1.lb
Features
- Heavy-Duty Aluminum Construction
- 1.2" LCD Display, Backlit
- Peak Hold, Set Points
Description
Lightweight, Compact Design for Cranes, Riggers, Shipyards, Construction Sites, Surveyors, Inspectors & Utilities.

When working around overhead loads or near line tensions, accuracy and safety cannot be compromised. The TL8500™ Series Tension Link scales from Intercomp are the industry standard for controlling and monitoring overhead loads and line tension while helping to maintain a safe work environment.

Machined from aircraft-grade aluminum with shock-mounted electronics in a NEMA 4x/IP65 weatherproof enclosure, Intercomp's Tension Link scales are built to last in capacities ranging from 500lbs (250kgs) to 300 tons. Indicators include Set Point, Peak and Low-Battery while offering unit measurements in pounds, kilograms, newtons, dekanewton, ton and kg x 1,000. Links feature dedicated hard keys for On/Off and mode and are sized to accommodate industry standard shackles.
Accessories
| Part Number | Description |
| --- | --- |
| 189014-RFX | TL-RFX Indicator |
| 150229 | External Set Point Relays |
| 150230 | Set Point Audible Alarm |
| 101055 | AC Power Input |
| 150119 | DC Power Input |
| 150100 | Shackle-Pair G-2130 5,000lb |
| 150101 | Shackle-Pair G-2130 10,000lb |
| 150102 | Shackle-Pair G-2130 25,000lb |
| 150103 | Shackle-Pair G-2130 50,000lb |
| 150104 | Shackle-Pair G-2130 100,000lb |
| 150105 | Shackle-Pair G-2140 160,000lb |
Publicly Available Documents