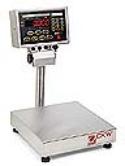 Ohaus - CKW Checkweigher
Capacity:
6000g / 6kg / 15lb
Readability:
1.g / 0.001kg / 0.002lb
Features
- LED Display with trafic LED bar graph
- RS232 Interface
- NEMA 4x stainless stell construction
- Multiple weighing units: kg, g, lb, oz, lb:oz, %
Description
Ohaus CKW Series Scales are engineered for static checkweighing operations and other types of bench
weighing applications – from general purpose to washdown. With their easy-to-clean design to minimise
food traps, food safety conformance, and rigid stainless steel construction, CKW Series scales are ideally
suited for years of use in harsh environments and other wet-environment applications. Its multiple
configurability and construction were designed for simplicity and dependability that the user needs,
resulting in increased productivity, security and lower cost of ownership.
Accessories
| Part Number | Description |
| --- | --- |
| 71167964 | Wall Mount Kit |
| 71167965 | RS422/485 Kit |
| 71167966 | Rechargeable Battery Kit |
| 71167967 | Relay Kit, AC |
| 71173377 | Relay Kit, DC |
| 71173378 | Foot Switch Kit |
Publicly Available Documents
login to access additional documents